We can arrange all aspects of the funeral, from liaising with third parties on the family's behalf – ministers, celebrants, burial authorities and crematoria, doctors' surgeries, registrars, and we can also arrange newspaper notices, catering services and venues, floral tributes and order-of-service sheets, which are individually designed and printed on site.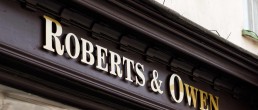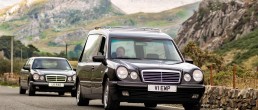 Each funeral service is a celebration of life and is unique, and this may be done in several ways – by means of music, images, picture slideshows, even live internet broadcasts.
A wide range of coffins and caskets are available to suit individual tastes, ranging from wicker to cardboard, veneered wood to solid timber.
Roberts & Owen run a fleet of Mercedes vehicles. To offer a broader selection a Land Rover Defender 110, horse drawn and motorcycle hearses are also available.